L.A. Daily Blog/L.A. City News - Most Recent Posts:
###
MayorSam.Blogspot.com
Morning Briefs on the Los Angeles Political Machine
We proudly bestow the moniker of "Villar-Greuel" on the City Controller formerly known as "Valley-Greuel"
In the wake of her "groundbreaking endorsements" from the likes of Senator Barbara Boxer, Assembly Speaker John Perez, CD 14 City Councilman Jose Huizar and fundraisers hosted by the connected wind energy speculator Ari Swiller, we are honor to bestow the moniker of
"Villar Greuel"
on the formerly known "Valley Greuel".
In Saturday's debate, the newly bestowed
"Villar Greuel"
, showed that she shares the same opportunist proclivities as the former Tony Villar of City Terrace, by her attack on supposed "Radical Right-Wing Radio Host" and fellow mayoral candidate Kevin James.
RELATED LINKS:
http://mayorsam.blogspot.com/2011/10/mayor-villar-fundraiser-ari-swiller-to.html
http://mayorsam.blogspot.com/2012/10/john-shallmans-pledges-to-save-us-from.html
###
LOS ANGELES DOWNTOWN N
EWS:
Disrespectful Wesson Owes Riordan and the City an Apology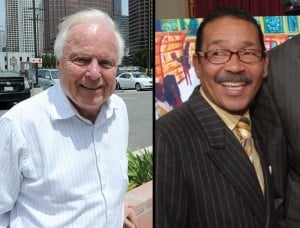 [Riordan said, "You're actually my favorite person to watch on TV," to @ZumaDogg on KABC radio. And Herb Wesson had to answer for/sort of apologized to @ZumaDogg in Los Angeles Times (LA Times) -- after uttering what was construed as a "threat" against Mr. Dogg. (Enough so that the Times followed-up, and Wesson felt compelled to answer for his temper and behavior. Herb Wesson is L.A. City Council President.]
DOWNTOWN LOS ANGELES -

R

espect is an important part of our society. Being respectful of others is taught in pre-school. In addition to the moral aspect of treating people the way we'd like to be treated, respect has practical implications — being disrespectful can turn a petty disagreement into a fiery fight.
Those basic lessons seem lost on City Council President Herb Wesson. The 10th District rep has displayed a lack of compassion for others on multiple instances since taking over the post from Eric Garcetti in January. Still, nothing compares to the disrespect that Wesson displayed to former Mayor Richard Riordan during a council session last month.
We don't write these words lightly — we have deep respect for the position of council president — but Wesson should be ashamed of his churlish behavior toward Riordan. Whether one agrees with the former two-term mayor's politics or not, Riordan has spent decades trying to make Los Angeles a better functioning, more habitable place. His many accomplishments include getting the city back on its feet — and rebuilding downed portions of the 10 Freeway — after the Northridge earthquake. He has earned his respect, particularly inside City Hall.
Apparently, Wesson just couldn't stomach the fact that someone, no matter how accomplished, would dare have an opinion counter to his. On Nov. 20, the council was considering Wesson's hastily assembled plan to put a half-cent sales tax increase on the May ballot. As this page wrote last month, the exceptionally speedy move was a lousy idea, and bringing the measure before voters without first giving interested parties a chance to thoroughly discuss and debate the proposal weakens public trust in government.
READ MORE
###
LOS ANGELES DOWNTOWN N
EWS:
Column: The Regardie Report

The Second Super Fantastic Mayor's Race Quiz
DOWNTOWN LOS ANGELES - In May, Los Angeles Downtown News published the first Super Fantastic Mayor's Race Quiz. A lot has happened since then: People have raised gobs of money. A couple prospective candidates opted not to run. A president has been re-elected. A few members of the public realized that there will be a mayoral vote in March 2013.
All the action makes this the perfect time to check again into how much Angelenos know about the men and women who hope to occupy the Spring Street aerie come July 1, 2013. Remember, even though there are correct responses, there are no wrong answers — any errors should be spun as a "learning experience."
One point for each correct answer.
4
)
Which event did not cause Wendy Greuel to send out an email to supporters asking for money?
a) August 2012 arrived
b) the end of the September 2012 filing period was 11 hours away
c) a Super PAC was established on behalf of Republican candidate Kevin James
d) USC played UCLA in football
e) Wendy got a new puppy
f) the 2013 mayoral election was exactly one year away
g) the 2013 mayoral election was exactly 100 days away
All Questions/Full Post
###
RonKayeLA.com
City Hall's Double Standard: Special Treatment for Special Folks like Andrea Alarcon, Herb Wesson and Jose Huizar
NEWS FLASH: City Attorney Carmen Trutanich announced he had charged two former Memorial Coliseum employees – a warehouse worker and a payroll clerk – with misdemeanor embezzlement and conspiracy involved $3,800 early this year. "This kind of criminal activity should not be tolerated, especially in a public agency," said City Attorney Carmen Trutanich.
Wait a minute – didn't Coliseum General Manager Patrick Lynch, the kingpin of the vast conspiracy that wrecked our beloved historical landmark and looted its treasury under the supervision of city, county and state officials, cut a deal with District Attorney Steve Cooley to plead guilty to a single measly charge of "conflict of interest" involving $385,000 in kickbacks instead of facing 15 ½ years behind bars on 10 counts that included embezzlement and conspiracy just like the warehouse and payroll guys?. Didn't our illustrious political leaders led the Coliseum deteriorate to the point they could justify gifting to our fabulously wealthy private University of Southern California.
I bring this up as just one of a thousand available examples of the
double standard
of treatment provided to the populace by our officials and to their friends and family.
READ FULL ARTICLE
###
LosAngelesDragnet.Blogspot.com
December 17, 2012
The monumental failure of City Attorney Carmen Trutanich's infantile
'Porcupine Defense'
has set a new record in costly lawsuit losses. On Friday, December 15, 2012, a Los Angeles jury returned a verdict awarding $24M to the victim of a LAPD shooting where an officer mistakenly shot a 13 year-old boy playing 'cops and robbers' with his friends.
Trutanich's 'Porcupine Defense' is believed to be responsible for the record award against the City
According to the
LA Times
,
'The award is believed to be the largest sanction ever against the LAPD for a single event and perhaps the largest of any kind against the department. It comes as the LAPD is trying to stem the number of costly lawsuits brought against it.'
The verdict comes at a time when the City Council is
looking at ways to outsource
much of the work of the City Attorney's office to private lawfirms, a move spurred by a lack of leadership by Trutanich. Although the essence of the Council's complaints against Trutanich have centered on delays in responding to requests for legal services, the staggering losses in this case are likely to add fuel the fire to bypass ineffective leadership by a career politician more focused on headlines and desperate attempts at re-election following his devastatingly humiliating defeat in the DA primary elecection.
The $24M verdict is the latest in a string of multimillion dollar losses suffered by City Attorney Trutanich, who has insisted that his deputies employ his
'Porcupine Defense'
strategy to defend the City. Under the strategy, settlement negotiations are not meaningfully pursued and plaintiffs are forced to go to trial. Trutanich, who invented the 'Porcupine Defense' stated that it was something he learned in school
'You may eat me, but I won't taste good going down,'
the abrasive former
ambulance chaser
slip and fall lawyer turned career politician recently explained.
Refresh to top of
LADailyBlog.com
.